A look at daily eats...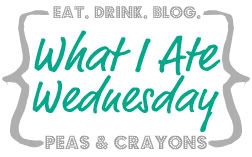 Brought to you by Peas & Crayons. More about WIAW over here on her site.
I actually prepped this WIAW last week and never posted it, so this week you get double the fun.
From last week:
A couple warnings here...
I started a new job. My in-laws are in town. I haven't been grocery shopping. I have a couple extra pounds chilling on my stomach and thighs. I'm not surprised.
I've been trying to workout without a dependence on coffee, so I have been enjoying my first cup after a workout and shower. Typically this means I make a cup of coffee while wrapped in my towel, and enjoy it while I get dressed and do my hair and make up.
Since I'm pressed for time in the AM, I've been prepping my oatmeal the night before. This is a combination of GF oats, ground flax, almond milk, egg whites, stevia and cinnamon that I let sit overnight. When I get to the office, I pop it in the microwave, add some hot water, and top with almond butter. I cannot believe how good it is.
Around 11:30, I started to feel a bit hungry and went with another coffee and a banana nut Quest bar. I had some calls in the afternoon and indulged in a diet soda. Not ideal. I actually realized that I felt kida gross after drinking it. Around 3ish when I started to get hungry again, the only thing I could think about was oatmeal (again). I had brought a proper lunch, but decided on oatmeal, round 2.
I got home around 6 and could not wait for a REAL meal. After a solid day of carbs and coffee, I was craving vegetables. I chopped up jicama, avocado, carrots, and red onion and threw it all on a bed of arugula. I got about half way though before I had to head to book club. I put the remainder of the salad directly in the fridge and headed to my girly get-together. I had a couple slices of cheese and a glass of wine while discussing the book and ended up leaving about 9.
This week:
This oatmeal combination is still going strong. I actually used the last of the flax this morning, so I will have to restock. Even though Chicago was pretty cold this morning, I had a craving for iced coffee and went with it. I added some vanilla flavoring (Capella flavor drops) and half and half.
Under that cinnamon (yes, I brought a shaker of cinnamon to work) is a blob of this stuff:
Vanilla bean + Espresso. What's not to like?
We grilled steaks on Sunday and I had two 4 oz. filets from Beetnik Foods that I had my husband do for lunches this week. I basically felt like a king eating steak for lunch.
This photo is from my lunch on Monday, but it was the same except the steak wasn't covered with spinach, onions, and horseradish and there was no salad. I bought the sweet potato at Whole Foods and was shocked to see that 3 small sweet potatoes ended up being 5 dollars. Is that normal? Am I cheap?
Steak for lunch is pretty filling, but I did end up getting snacky around 4:30. I started with jicama and bell pepper, then grazed on some baby carrots. and finally had a couple almonds when I got home around 5:30. I am on a huge jicama kick right now.
Dinner was
Cream Cheese Chicken Chili
(I do it on the stovetop instead of the crockpot) and kale salad. I assigned my husband with making skillet cornbread for himself and his brother and I tasted a sliver.
We had an early night and did some reading/internet browsing before bed. I had some healthier hot chocolate made of almond milk, hot water, stevia, and half a packet of CocoaVia while sitting in bed reading.
I rarely participate
in this
because I am not great about documenting the meals and snacks, but occasionally it's nice to see a day's eats.
Interesting? Not interesting? I'm needing some feedback here.
Have you had Jicama? Do you eat it plain or have a recipe or suggestion for me?
If you could make your ideal almond butter combo, what would it be? Vanilla coconut or salted caramel.